Old habits are hard to break.​
Despite the rumors and predictions of the demise of shopping in a physical store, the brick-and-mortar tradition is alive and well. In our recent
Global Shopper Study
, 98% of those questioned had visited a physical store to grocery shop in the last month.


Shoppers are not just perusing physical grocery stores, they are buying. With respect to total grocery spend, our survey found that the physical store still dominates in percent of total grocery spending.
In fact, across the six countries in our study, 87% of the total grocery basket spend occurred in a physical store.
Dominating Grocery Spending: The Resilience of Physical Stores

Online

Grocery

and

Physical store

Spend by Country



| | | | |
| --- | --- | --- | --- |
| Market | Physical Store | Online Shopping | |
| China | 82% | 18% | |
| Germany | 93% | 7% | |
| France | 92% | 8% | |
| Italy | 93% | 7% | |
| UK | 79% | 21% | |
| USA | 80% | 20% | |

This does not mean that online grocery shopping is not important, and it will surely continue to grow. Look at the percentage of shoppers currently buying groceries online in the chart below.
Online Grocery and Physical store Penetration by Country


| | | | |
| --- | --- | --- | --- |
| Market | Online Penetration | Offline Penetration | |
| USA | 48% | 52% | |
| UK | 46% | 54% | |
| France | 26% | 74% | |
| Germany | 27% | 73% | |
| Italy | 36% | 64% | |
| China | 60% | 40% | |

Some European countries are well behind others and Chinese shoppers are over 60% more likely to buy groceries online than the average of the other five countries in our study. But remember, 82% of grocery spend in China still happens in a physical store.
Online Grocery Shopping on the Rise: Adapting to Changing Shopper

Behavior
For brands, any rush to spend on digital needs to be balanced with continuing efforts in the traditional grocery store. Packaging, product placement, planograms, and POSM remain critical touchpoints in-store that must be optimized to maximize impact since this is where the bulk of conversion is still happening.
When shoppers are shopping online, we observed a very tight correlation between retailer market share in physical stores and the same retailers market share online.

Below are examples from France and the US.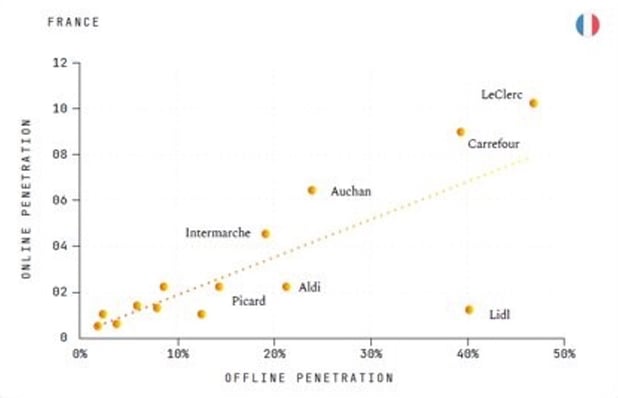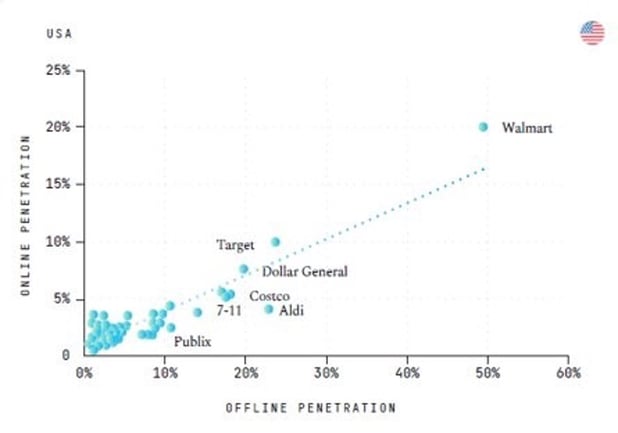 A

Symbiotic Relationship: Balancing Physical and Digital Strategies

& The Rise of the Cashier-Less Store
In the rapidly evolving grocery retail landscape, a balance between digital and physical strategies is crucial. While online grocery shopping is growing, physical stores still dominate total grocery spending . We have also seen a rise of online shopping influencing physical store buying, In fact, the P2P institute estimated that 62% of all sales are influence by digital efforts.
While we have established the importance of the physical store, we are seeing a hybrid physical/digital shopping experience emerge.
Brands must optimize in-store experiences through packaging, product placement, planograms, and POSM. Cashier-less stores, driven by innovative technologies, offer convenience, but their impact on pricing, impulse purchases, and customer satisfaction requires careful consideration.
To adapt to these changes, retailers should enhance online shopping experiences with digital flyers, personalized offers, and seamless checkouts. AI and chatbots can enhance customer engagement. However, changes aren't solely driven by customer service improvements, as labor savings and combating theft are also factors. By understanding shifting dynamics, brands can create personalized experiences and foster loyalty, driving growth in the grocery retail industry.

The growth of cashier-less stores - powered by technology that enables shoppers to select their items, leave the store, and be accurately billed – will become commonplace over the next decade. No lines, no cashiers, no scanning, no swiping or inserting credit cards.
Amazon, for the most part, has led this effort and continues to perfect and sell the technology to other retailers. Its Dash Cart technology, available in Amazon Fresh stores and in several Whole Foods locations, is powered by a combination of computer vision algorithms and sensor fusion to identify items placed in the cart with a simple scan. The screen has a weight scale and the ability to view your "live" receipt. When exiting the store, sensors detect the Dash Cart and bill the credit card in the shopper's Amazon account.
Amazon is continuing to advance the technology not only for their own use but also sells the technology to other retailers. You may have heard of Amazon's "Amazon One" technology where shoppers simply use the palm of their hand to enter a store and checkout.
While far more established in Asia, cashier-less stores are showing up across Europe and the US. Amazon, Carrefour Flash, Sainsbury Pick & Go, Tesco Get Go, and Rewe Scan & Go are just some examples. Aldi even uses facial age estimation technology in its app to verify the age of shoppers for the purchase of adult beverages.
Evolving Shopper Behavior: Critical Questions for Cashier-Less Stores
This switch to cashier-less stores will impact shopper behavior and habits may change. Here are some critical questions that will need to be answered.​


These new stores save consumers' time, but how will the retailers help save them money? Digital flyers in the app? Digital coupons?

Will POSM still play a role?
Will shoppers buy more, less, or the same?
Given the real-time view of the receipt, do shoppers pay more attention to the tally of the basket during the shop versus waiting until check-out to see the total spend?
How does this impact impulse purchases?
What about the experience? Are the number of shoppers in the store at the same time greater or fewer?
Do shoppers feel they are under surveillance?
Will this impact the purchase of treats or other less healthy items?
What is the effect on satisfaction? Are shoppers satisfied if there is no interaction with store personnel? Will retailers include AI and Chatbots to fill the interaction void?
The answers to these questions will be critical for retailers and brands to understand as these answers will likely govern the adoption and acceleration of the technology.

Beyond Customer Service: Motives Behind the Change
One last note... Is this really about improving customer service? Or are there other motives behind the change?
Beyond the obvious labor savings, theft may be an even more significant driver. Walmart states that it loses $3B a year due to theft. Target recently announced that financial results were negatively impacted by shrinkage - to the tune of $600M. Many retail chains and independent retailers have closed stores due to "organized retail theft." The National Retail Foundation estimated the industry has lost $94.5B to "shrink." These numbers are certainly large enough to warrant investment in cashier-less technology.
At PRS IN VIVO, we study behavior because Behavior Never Lies. That's why we conduct live, in-person Retail LabsTM to observe actual behaviors and habits in various retail environments.
Unlock the secrets of bridging the gap between online and offline shopping experiences. Download our comprehensive white paper and gain valuable insights into enhancing the physical store experience for online grocery shoppers.