As the digital revolution evolves, online grocery shopping is rapidly gaining popularity. However, not all categories are benefiting equally from this trend. In our recent Global Shopper Study spanning six countries, we uncovered intriguing insights into online grocery shopping habits and the categories that are thriving in this realm. By understanding these trends, brands can make informed decisions to optimize their online sales and enhance their presence in physical stores
Unleashing the Power of Online Shopping
Certain categories have emerged as frontrunners in online sales. Non-perishables, personal care, beauty, male grooming, baby needs, pet food, and adult beverages are experiencing significant success in online purchases. Unsurprisingly, fresh vegetables and meat are lagging behind in the online realm. This discrepancy highlights the need to delve deeper into shopper behavior and country-specific disparities.
Spotlight on Country Disparities
Differences exist in the maturity of online grocery shopping across nations. In Germany, France, and Italy, non-perishable food items account for less than 10% of online purchases. In contrast, the US, UK, and China boast an impressive average of nearly 30% for these categories. The contrast is even more pronounced for fresh vegetables and meat, with the US, UK, and China leading at 19% in online purchases, while Germany, France, and Italy trail behind at a mere 4.7%. These variations highlight the varying levels of adoption and potential for online grocery shopping across different countries.
China: The Vanguard of Online Grocery Shopping
China stands out as a trailblazer in online grocery shopping. It exhibits remarkable dominance in Fresh Foods, where a staggering 39% of purchases are made online. Moreover, categories like Home Care, Beauty, Male Grooming, and Pet Food witness even higher online sales than in physical stores. China's success in online grocery shopping can serve as a valuable case study for brands seeking to capitalize on this growing trend.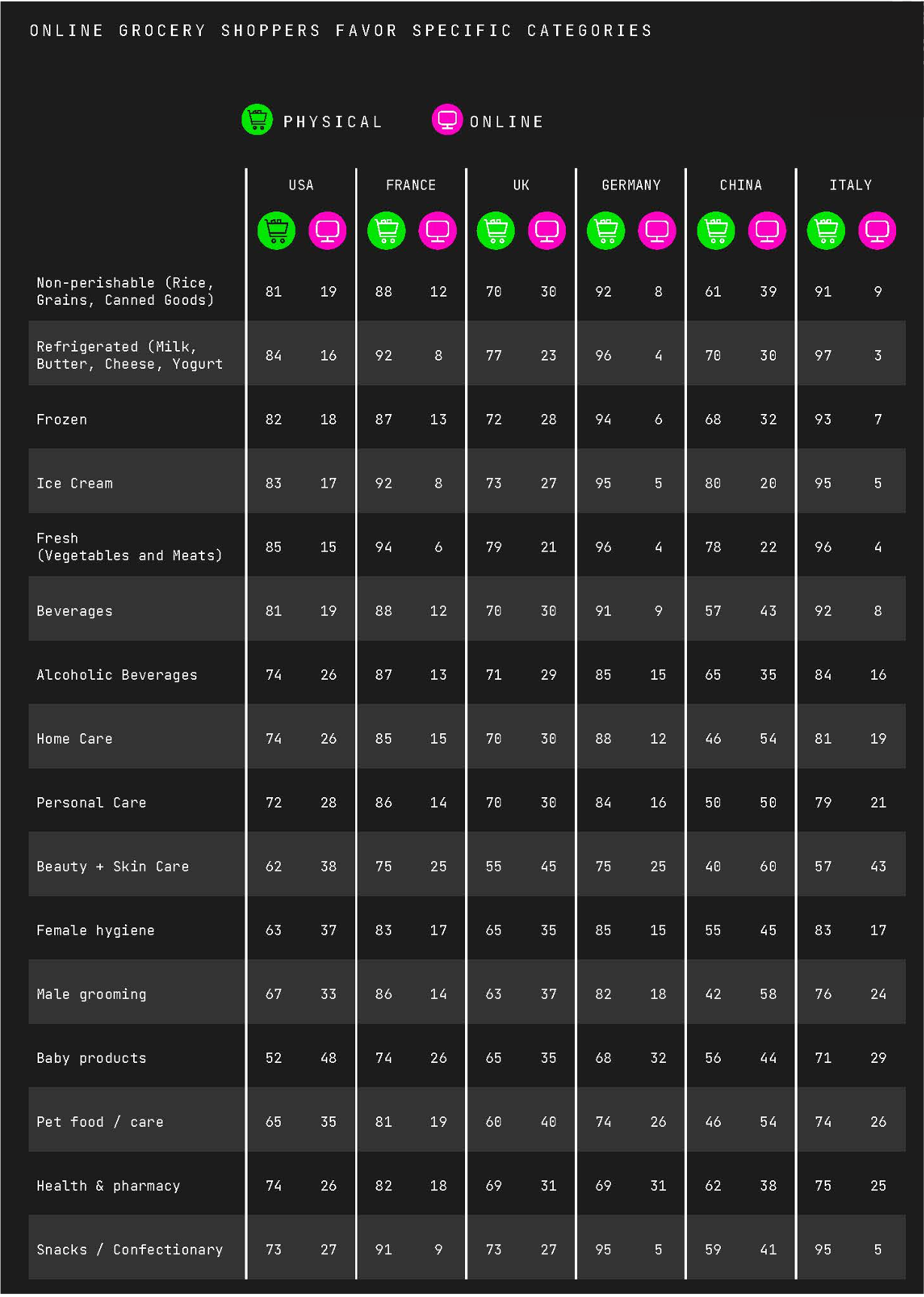 Mastering the Pick-Up and Pick-Out Routine
The Pick-Up and Pick-Out routine is a common practice among online grocery shoppers. It involves ordering online for in-store pickup while also venturing inside the store to select specific categories. Understanding this behavior is crucial for brands seeking to enhance their online sales.
Revealing Shopper Behavior
| | | |
| --- | --- | --- |
| Country | Shoppers buy online and pick up at store | Shoppers go into the store to buy something else |
| USA | 33% | 65% |
| France | 57% | 52% |
| UK | 12% | 72% |
| Germany | 19% | 89% |
| Italy | 28% | 66% |
Categories Over-Indexing for Pick-Out In-Store
When shoppers venture into physical stores, they tend to gravitate towards fresh vegetables, fresh meat, refrigerated products, and snacks. Notably, snacks present a prime opportunity for impulse purchases. Brands operating in high-impulse categories can leverage this behavior by engaging shoppers online or strategically positioning displays in-store where shoppers head for their "pick-out" categories.
Capitalizing on the Opportunity
To optimize their sales, brands can leverage the insights gained from shopper behavior. This opens up exciting avenues for engaging shoppers online, improving the user experience, and strategically positioning products to capture impulse purchases. By understanding the categories with the greatest online sales potential, brands can allocate resources effectively and enhance their consumer engagement strategies.
Unleashing the Potential of Online Grocery Shopping Habits
Understanding shopper habits in the realm of online grocery shopping is critical for brands aiming to optimize their online sales. By identifying categories with the greatest online sales potential, brands can make informed decisions regarding resource allocation and consumer engagement. While changing entrenched shopping habits may prove challenging, brands can simultaneously strengthen their presence in physical stores, drive sales, and leverage online channels to complement their strategies.
Are you capitalizing on the concept of online favorites to drive customer loyalty and repeat purchases? Access our full white paper to discover effective strategies and tactics for leveraging online favorites in the grocery industry.